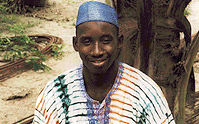 Seyfo Kanuteh is a talented young jali (Mande bard) with the rare distinction of mastering both the kora and balafon along with the vocal arts of jaliya. If the bala is the oldest and most prestigious instrument of the jaliya tradition, the kora is the most popular, enjoying a large appreciative audience outside of Africa as well. Born and raised in Basse in Eastern Gambia, Seyfo moved to the Serrekunda area and is now busy performing in traditional gatherings, hotel engagements, weekly programs for Gambian national television and radio in Banjul, and teaching music to both Gambian and Western students. While his knowledge of the traditional Mande repertoire is extensive, he is also a gifted composer, for which his preferred instrument is the kora (tracks 2 and 5-10). As is common practice in jaliya tradition, some of his compositions are variations on classics from the Mande repertoire. In keeping with the traditional function of jaliya, his compositions praise personal acquaintances who have helped and inspired him, and provide moral insight into issues about which he feels strongly. Seyfo is also a skilled craftsman of fine balafons, specimens of which lie at various stages of construction in his workshop. His two CDs were recorded at his home in Bakoteh Layout, just outside of Serrekunda. They provide a particularly interesting opportunity to compare renditions of pieces (Kaira and Yeiyeiwo) played by the same performer but on different instruments.
Seyfo is pleased to record these CDs and wishes to thank listeners for their interest in his music.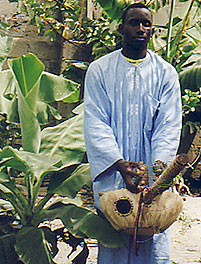 KORA
Seyfo's uses the standard silaba tuning for this recording, except for Kaira, Mingnkoye yarabi and Alanehneh, which are in the sauta tuning (silaba with a raised fourth degree).
Kelefaba, recounting the life of the 19th-century warrior Kelefa Sanneh, is one of the most famous pieces of the jaliya repertoire and traditionally the first piece learned on the kora.
Kananmenamokola advises us to put our trust in things and people through direct experience and be weary of second hand news and third-party say so. The kumbengo (kora pattern, groove) is related to the traditional pieces Salimo and Tita.
Yeiyeiwo is a traditional song for which Seyfo has supplied a new kumbengo. The song laments all the people who we love but miss through death or other kinds of separation and encourages us to keeping moving with our lives—the world keeps turning.
Kaira ("Peace") is a well-known modern classic attributed to Sidiki Diabateh, father of the famous Toumani.
We All Going To Our Classes is a rather unique composition for being sung in English. Seyfo believes in the power of education to improve lives and particularly encourages this among girls and young women in the Gambia.
Mingnkoye yarabi advises us to not respond hastily and mindlessly to wishes and prayers of others, as they may not be good for us. To follow Seyfo's example, one would not immediately respond "Amen" to the prayer "May God kill you!" Seyfo notes that the kumbengo is related to the modern classics Tabara and Apollo.
Fanta Darbo praises a women who helped Seyfo.
Alanehneh begs the wife of Seyfo's friend Mady Konte, not to cry.
Kanno calls for love in everything, particularly between spouses, family and friends. The kumbengo is related to Jimbasengo.
Badia calls on family to communicate, help and have sympathy for each other.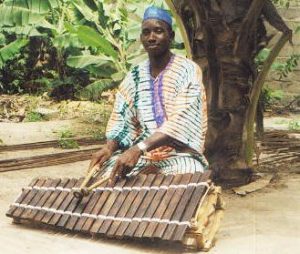 BALAFON
Seyfo performs the vocals and lead balafon, the accompanying balafon is played by his student Suleyman Jobarteh. Seyfo chose to focus on repertoire that may be considered modern classics, i.e., pieces that have a wide currency that were composed after WWII.
Lamban is a classic, one of the oldest standards in the jaliya repertoire, that praises jaliya and jalis themselves.
Kaira is a modern classic that Seyfo also interprets on the kora CD; it is most interesting to compare these two renditions.
Yeiyeiwo, another modern classic, is also arranged (somewhat differently) on the kora CD.
Konkoba is a drum rhythm from the Malinke jembe repertoire that accompanies harvesting festivities. Kora artists Toumani Diabate and Ballake Cissoko have begun arranging drum rhythms for kora; Toumani recorded a brilliant version of Konkoba on his debut solo album Kaira.
Madam Sawa
Apollo is dedicated to the space program that landed men on the moon in 1969; this widely known tune became associated with modernity in Africa. There are no vocals on this track.